Employee Resource Groups
We're fostering
a vital culture of
inclusion.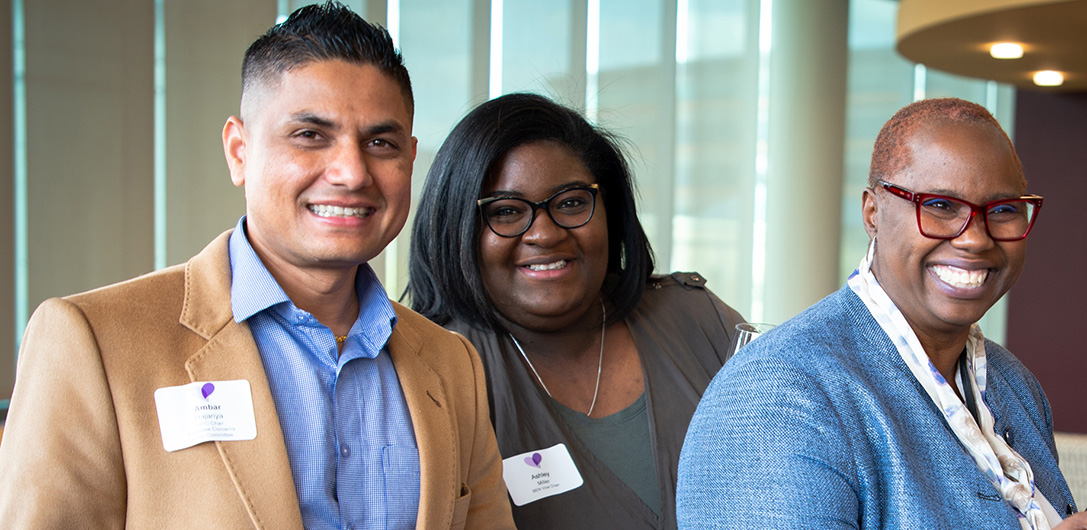 Employee
Resource
Groups
Employee Resource Groups (ERGs) are a necessary and key part of CareSource's inclusion strategy. They provide a safe space and community for underrepresented groups and are voluntary and employee led. They give employees the chance to participate in advanced DEI programming and gain career guidance, as well as help to build communities of support within our organization while fostering a culture of inclusion.
Every CareSource-sanctioned ERG has:
Executive-level support and leadership
Representation at Equity Council governance meetings
A dedicated budget for programming
Leadership support for employees to participate in ERG activities
1,655
employees are members of an ERG
126
leadership opportunities were created via ERGs
485
employees attended 10 professional development events sponsored by ERGs
398
employees attended 15 professional networking events sponsored by ERGs
3,577
employees attended 42 diversity awareness events sponsored by ERGs
102
volunteers participated in 17 volunteering opportunities sponsored by ERGs
Employee Resource Groups
Alliance for Disability Empowerment
(ADE)
ADE was created to increase the inclusion, advancement, and equity of people with disabilities at CareSource and in our communities; thus, impacting our members by fostering an inclusive and respectful healthcare system and environment.
We aim to connect CareSource employees with disabilities and their allies and to create educational opportunities to help employees with disabilities and their allies leverage their diversity for success. ADE members advocate through volunteerism, inclusion, and support.
Asian & Pacific Islander Community
(APIC)
APIC was established to provide inspiration and awareness of all Asian and Pacific Islander cultures. The group's mission is to identify ways to share our culture throughout the organization and provide non-Asian employees with an opportunity to learn and contribute to traditional events. For example, we've hosted 300+ attendees for the World Cultural Diversity Fair Event at CareSource's offices.
Black Employee Network
(BEN)
Employees who identify as African American/Black, as well as those allies with a desire to support the growth of the community, work together to cultivate a support system for CareSource employees of color by providing education, personal growth and mentoring. As part of our efforts, we've partnered with all ERGs to establish Martin Luther King Day as a company recognized day of service and sponsored a local shoe drive for kids to acknowledge Juneteenth.
Latine Employee Network
(LEN)
The Latine Employee Network is a resource and community for those of any background to learn more about the Latin/Hispanic culture. Our aim is to create and grow a safe space where those of Latin heritage and allies can work together to culturally educate, advocate, gather, and develop leaders within CareSource and our community.
Mental Health Advocates
This group creates a space for all employees who have an interest in promoting positive mental health in the workplace, personal life, families and our communities by activating our collective experience to gather, grow, encourage and educate. We serve as a strategic partner with CareSource to promote a culture of awareness and acceptance through exposure and continual learning, and encourage workplace practices that support positive mental health for all employees.
Military & Veteran Support Unit
(MVSU)
MVSU provides a cohesive environment for those who support our military, veterans and their families. We strive to be a strategic partner and advocate by elevating military and veteran opportunities through learning, development and engagement. We've partnered with the Defense Health Agency and work to support local VA groups on veteran-focused events.
Multigenerational Employee Group
(MEG)
MEG's goal is to cultivate and foster a collaborative and inclusive workplace for employees of any age to grow and thrive together. We seek to facilitate and optimize the development of emerging leadership talent through a focus on the diverse sensibilities of the multigenerational workforce. We also host programming for Intergeneration Month.
Network of Indigenous/Native Americans
(NINA)
NINA is focused on substantially increasing the representation of Indigenous and Native American peoples through knowledge, support and culture. Our mission is to create a space for any CareSource employee who has an interest in Indigenous and Native American culture and wants to gather, grow, encourage and educate. Activities have included attending the Tribal Public Health Conference, meeting with Tribal Leaders in the communities we serve, and creating new company business collateral that highlights Indigenous/Native American Populations.
Pride, Love, Understanding, Support
(PLUS)
PLUS was created to amplify the voices of lesbian, gay, bisexual, transgender, queer, questioning, intersex, asexual and others across the sexual identity spectrum. Our goal is to establish a presence and awareness of the LGBTQIA+ employees and allies at CareSource, inviting courageous conversations regarding diversity and inclusion. We spearhead CareSource's Human Rights Campaign efforts, helping to improve our HRC CEI score and being listed as one of the leading employers that support the passage of the Equality Act. We've also sponsored Dayton, Columbus and Cincinnati Pride events, providing brand exposure to more than 1M people.
Women Employee Network
(WEN)
WEN was established to create forums and opportunities for employees to empower and support women. We work to create a network of support for employees to share and recognize women's achievements, provide increased opportunities to grow personally and professionally and advocate for increased representation in influential positions and leadership roles across CareSource.